I updated to v2.5 when I added the leather equipment.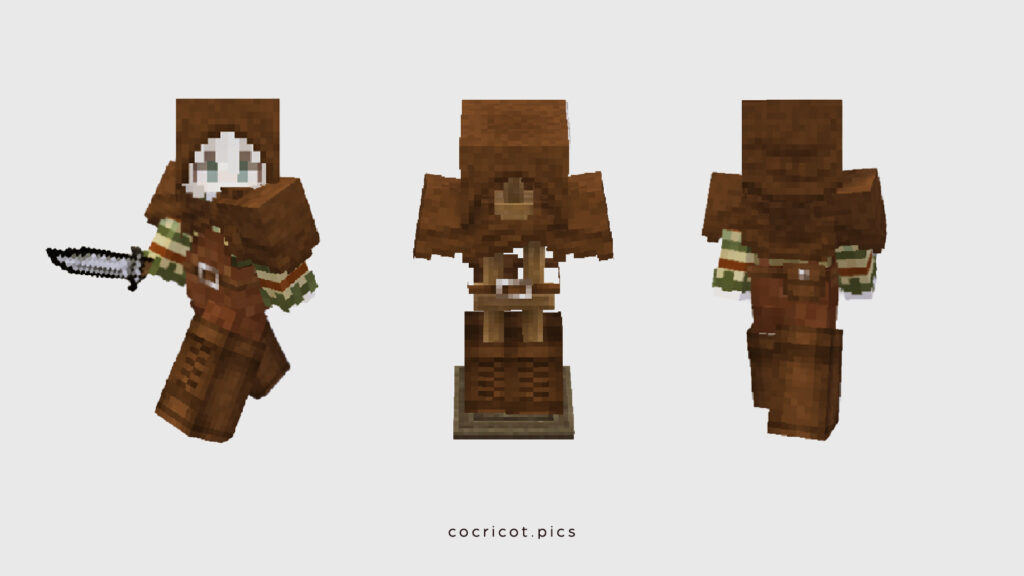 For the leather equipment, I made a hooded poncho, long boots, and a belt with a waist pouch.
It's hard to tell because my skins are dressed in brown, but can you see the pouch in the back? LOL!
It is very cute and I love it!
I ran out of power with the leather equipment… lol… lol I still have more equipment… LOL!
Other updates
The changes between v2.4 and v2.5 are as follows
v2.4
Added textures for End Crystal and Dragon Egg
Grass no longer connects to halves or stairs when connected to blocks.
Fixed a problem with Red Carpet that the gaps were transparent when CTM was active.
Fixed Smooth Quartz not getting CTM.
Fixed a problem that the sides of Trapdoor were disappearing.
Fixed other drawing bugs
v2.5
Added textures for Sculk Catalyst, Sculk Sensor, Conduit, Perlescent Froglight, and Verdant Froglight
Added textures for mobs (Warden, Ender Dragon, Snow Golem)
Fixed CTM not working on Jukebox.
Changed textures on Reinforced Deepslate.
Added textures for Sea Pickle items
Added textures for Leather equipment.
Fixed a problem with some of the tiger cat's paws not being textured.
Changed the color of Allay.
Added random Granite Slab without CTM.
Adjusted the color of some textures.