Scher additions, minor fixes, texture replacements, color adjustments, etc.
The following is a record of updates since v2.1 in 1.19.3.
1.19.3
v2.1

Added textures for items that were still vanilla
Added textures for Elytra, Pig's Saddle, Repeating Command Block, Frogspawn, Sheld, Chorus Plant, Chorus Flower, Sea Pickle, and Lighting Rod
Coral-related textures have been added.
Changed the color of tools in Netherite.
Added textures for Shulker Box particles
Fixed texture on Wet Sponge and Carved Pumpkin.
Changed the color of Melon seedlings.
Sand now connects naturally with Smooth Sandstone and Dirt Path (with CTM).
Some GUI modifications and additions
1.19.4
v2.0

Added Sculk textures.
Changed roof pattern from half, stairs, and walls to double half only.
v2.1

Added textures for Turtle Egg, Potted Azalea Bush, Potted Flowering Azalea Bush, Trip Wire, Pertrified Oak Slab, Polished Black Stone, and Lodestone.
Fixed the bottom of the Juke Box also being a speaker.
Fixed a white line on Dark Oak Door.
Fixed that the Item Frame was not textured when a map was attached to it.
Replaced textures on Slab, Stairs, and Double Slab of Polished Blackstone and Polished Blackstone Bricks.
Tweaked Item Frame model.
Removed red lanterns from Ohce Froglight when placed horizontally.
Added randomness to Lilypad.
Added a new carpet to the CTM of Red Carpet.
Changed the color of some blocks.
Added textures for mobs (Mule)
v2.2 & v2.3

Removed half-timbering applied to half of Oka Planks (when CTM is available).
Changed the color of some blocks.
Changed textures of Polished Andesite, Light Gray Staind Glass, Iron Pressure Plate, End Rod, and Tripwire.
Swapped textures on Oak Sign and Mangrove Sign
Added texture to the side of Trapdoor.
Fixed CTM on Polished Diorite Double Slab.
Added texture to the rope attached to the fence.
Added texture to the back of the Lectern.
Fixed a jaggy staircase with grass overlay.
Fixed the top and bottom of the wood slab.
Fixed the natural connection between some blocks and grasses.
Added rotation to the texture of the top surface of the Cobble Stone Slab.
Added textures for mobs (Parrot, Cat)
Lodestone
Lodestone is a tablet-like image that resembles a magnetic compass.
It looks good when embedded in the ground.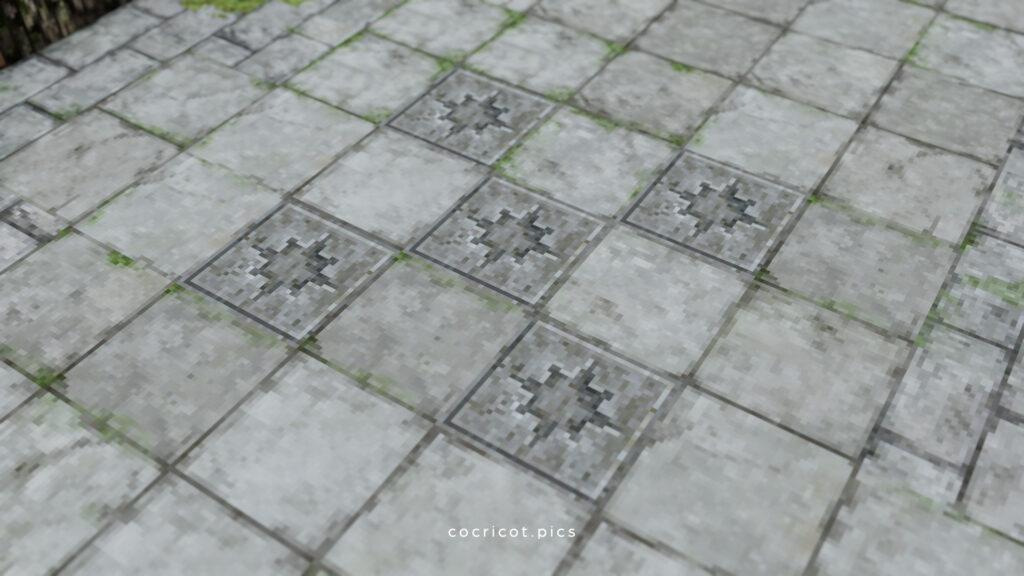 Cat and Parrot
Now that the blocks and items are almost ready to be filled, we are adding mobs a little at a time…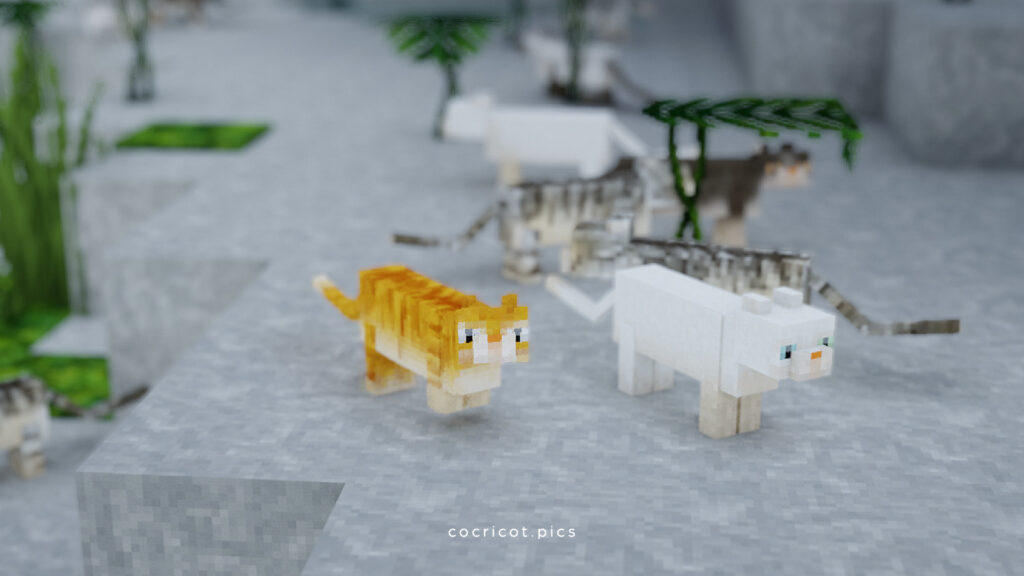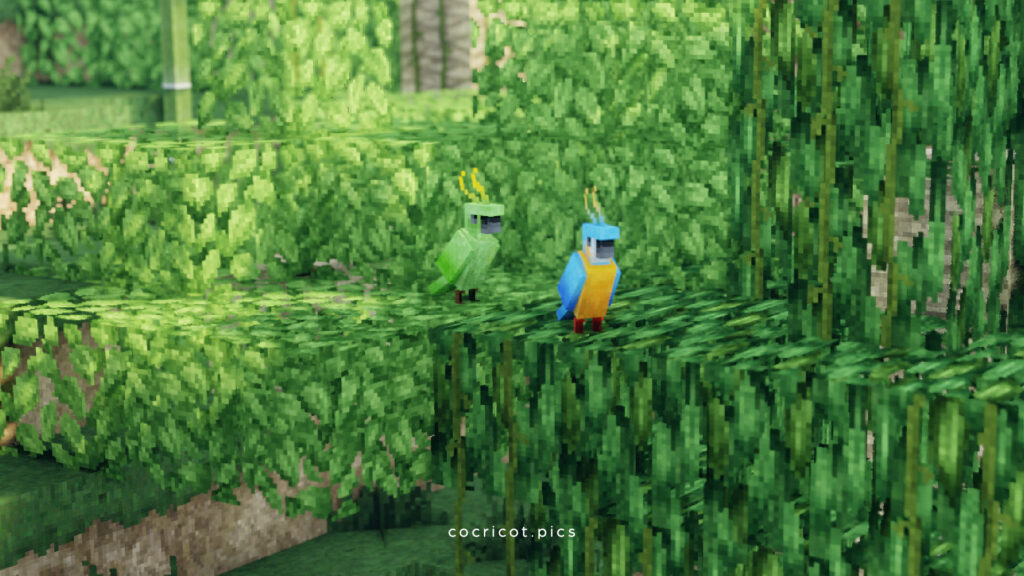 Wood Slab and Trapdoor
The top and bottom of the wood half was flabby, but I tweaked it to look like this.
It's a small change, but now it looks good on the ceiling.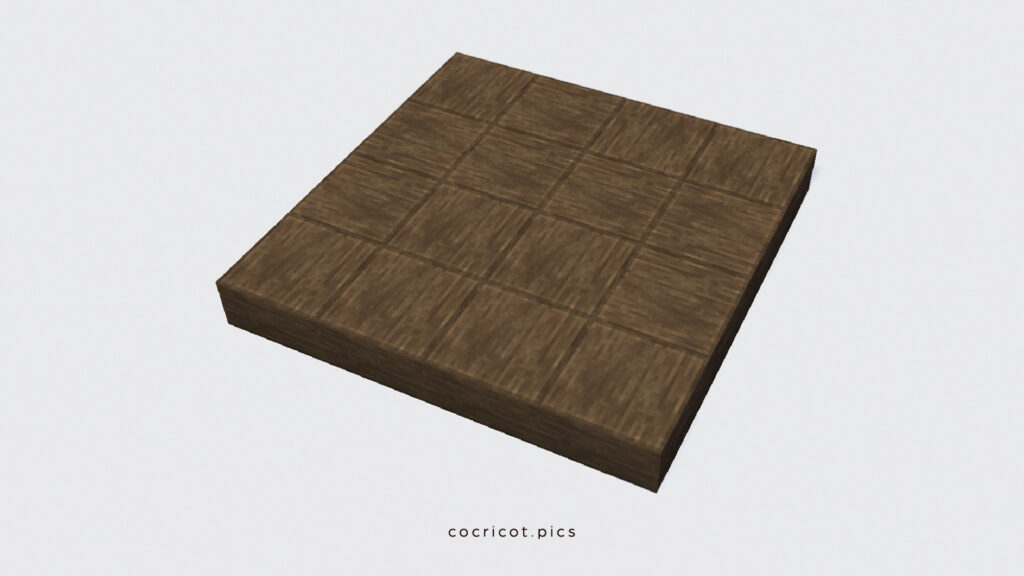 トラップドアは側面を最適化。
表面の柄としっかり対応するようにしました。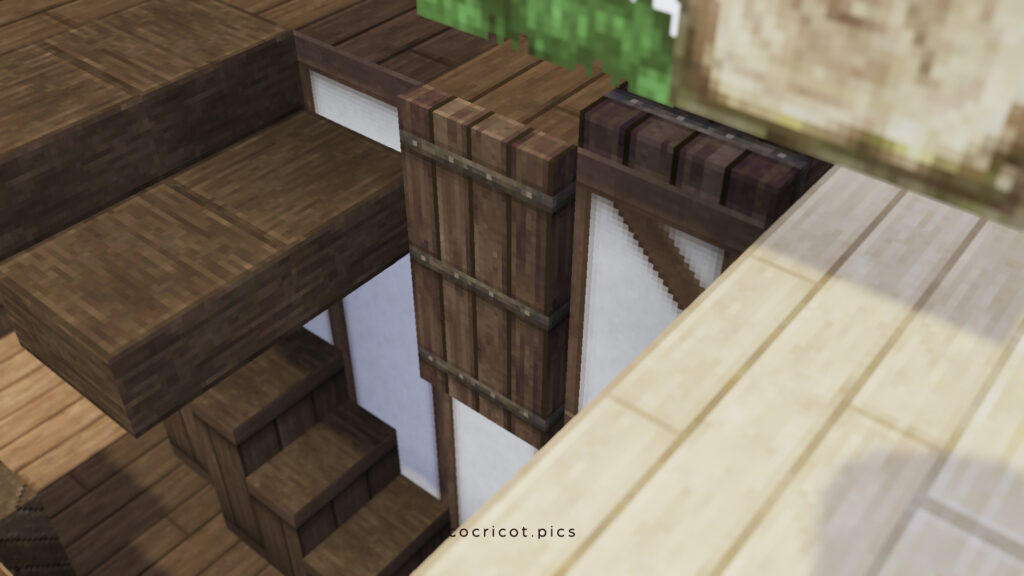 About Bedrock Edition
It is taking a long time because we have to have all the textures and we are working on the Java version 1.19.4 for the Bedrock version. I am releasing the Java version of the textures that are ready to go in order to keep me motivated until completion. Please don't ask me when it will be completed as I am really working hard on it.