We are pleased to announce the Fall/Winter update of the 12.2 version of cocricot and mod. The centerpiece is the charming foliage leaf block🍂 We've also added a bunch of other items perfect for fall/winter!
Here's a quick look at the additional items, although all of the images were tweeted on Twitter respectively😊.
Vintage Lanterns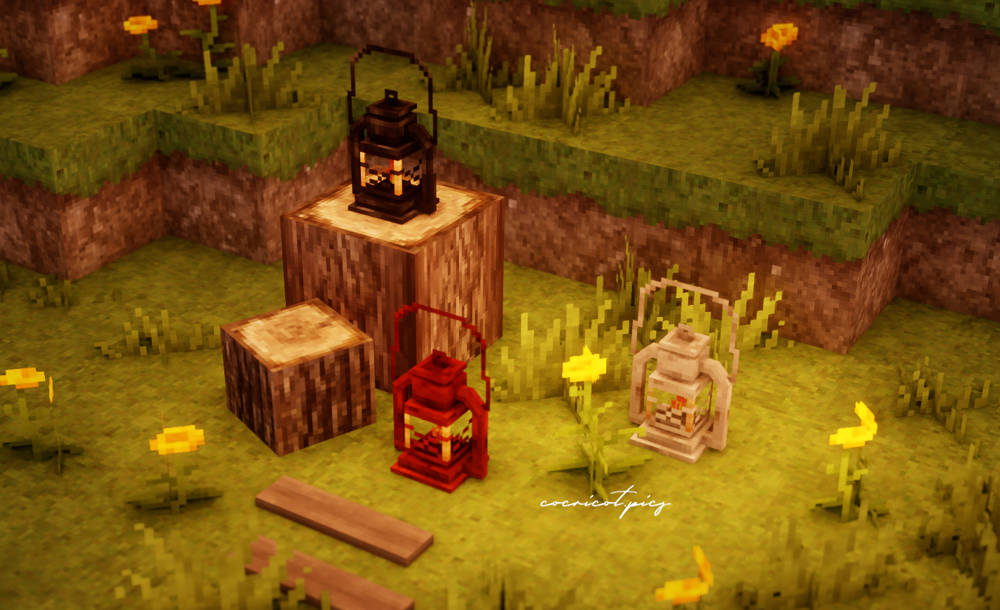 This vintage lantern is round and round. I like this deformed form a lot. Available in black, red, and white. I made it one block tall so that it can be placed or hung. You can turn it on and off with a right click.
The point is that it is a little rusty.
Lumberjack Set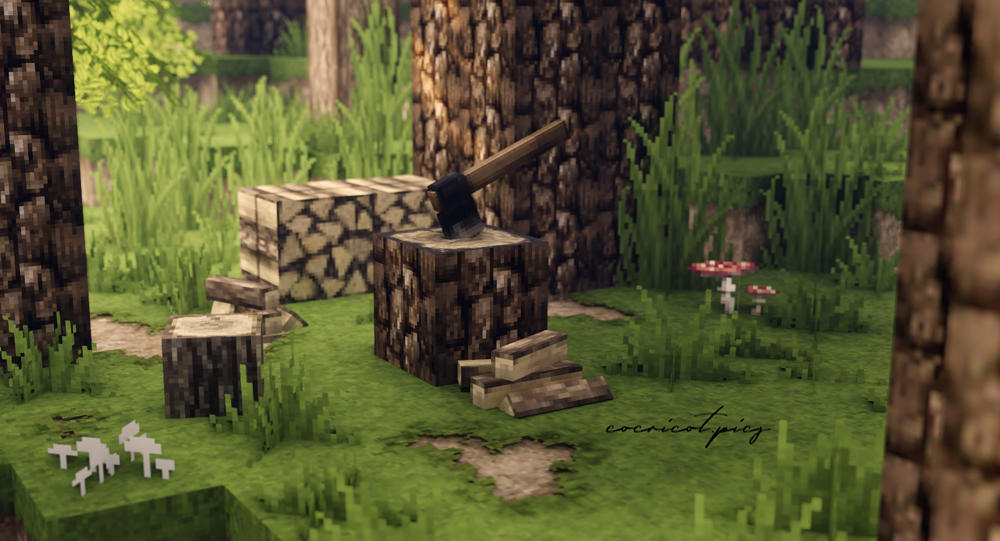 This set consists of an axe, a pile of firewood, and a bundle of firewood that looks like it would look if you stuck it into a log. The firewood can be used in various places. I would like to put it on top of a barrel or something.
The stacked firewood changes the way it is randomly stacked, so you can put several of them in a row to make it look nice.
Autumn leaf block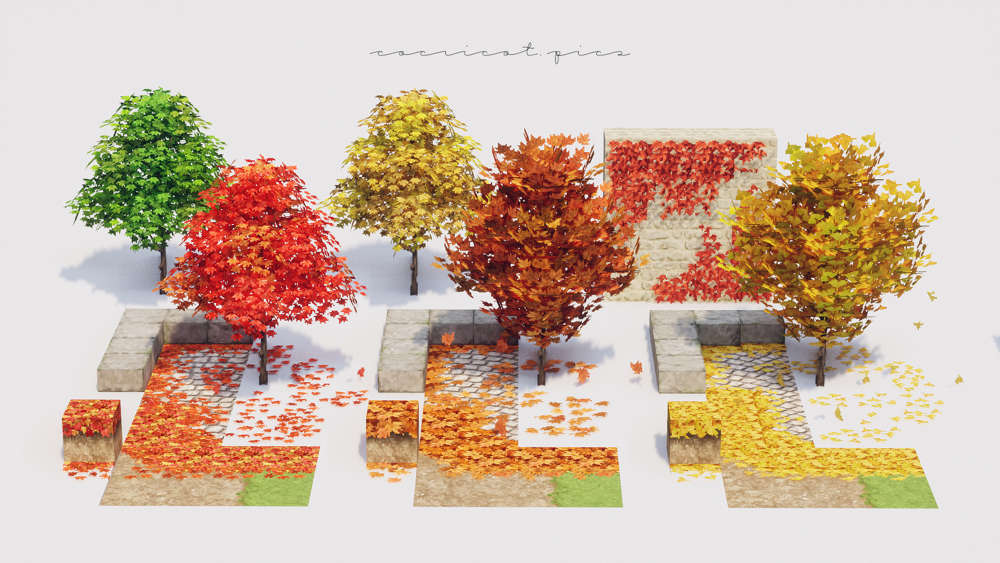 The main highlight of this one, hands down! 👀
Autumn leaf blocks. The 🍂 leaf block itself is the same as the previous blocks, but the look and functionality has been upgraded.
The main point is that you can create a more natural looking tree than ever before. The shape of the tree changes when they are placed next to each other, so if you place them carefully, you can get very close to a natural tree shape…! Connect to leaf blocks, log blocks, and branch blocks. Click here for the secret story behind the creation of the leaf block.
The color of the leaves is also a point of interest, with a gradation of colors within the same color. We tried to make them look natural even when placed in large numbers.
In addition to the leaf blocks, we also offer a wonderful series of fallen leaves💛.
There are blocks that can be laid out as they are, pools of fallen leaves at the edge of a road or building, animated blocks that flutter down, carpet blocks of fallen leaves….
The animations are recommended items that we have tried to make look more natural by, for example, randomizing the speed of falling.
We aimed for a shimmering fall for the maple leaves and a twirling fall for the ginkgo leaves.
The carpet blocks of falling leaves are connected by different colors, so you can mix and match them to create a richer expression. They can also be connected to stones, soil, grass blocks, etc., so please try using them in various places.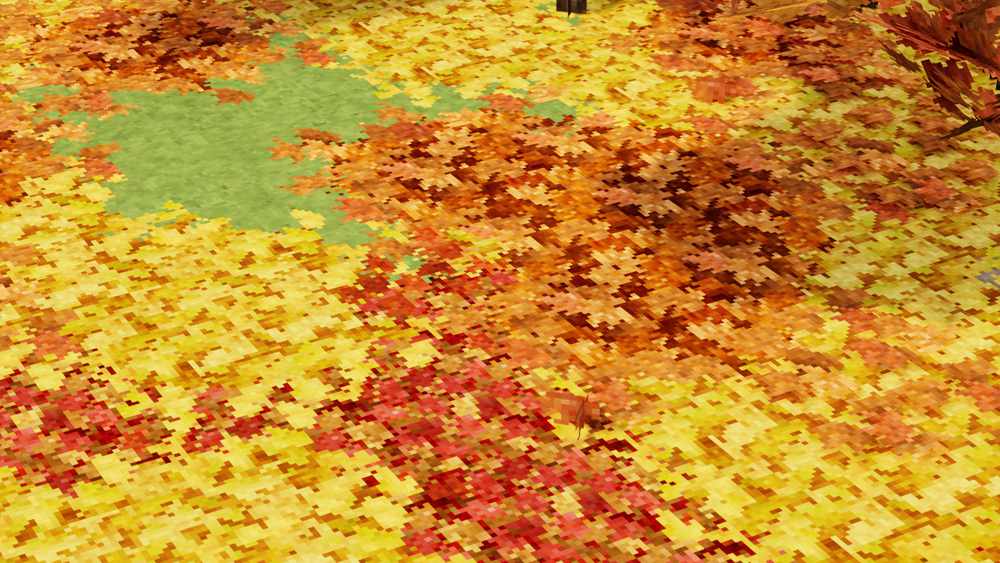 Rocking chair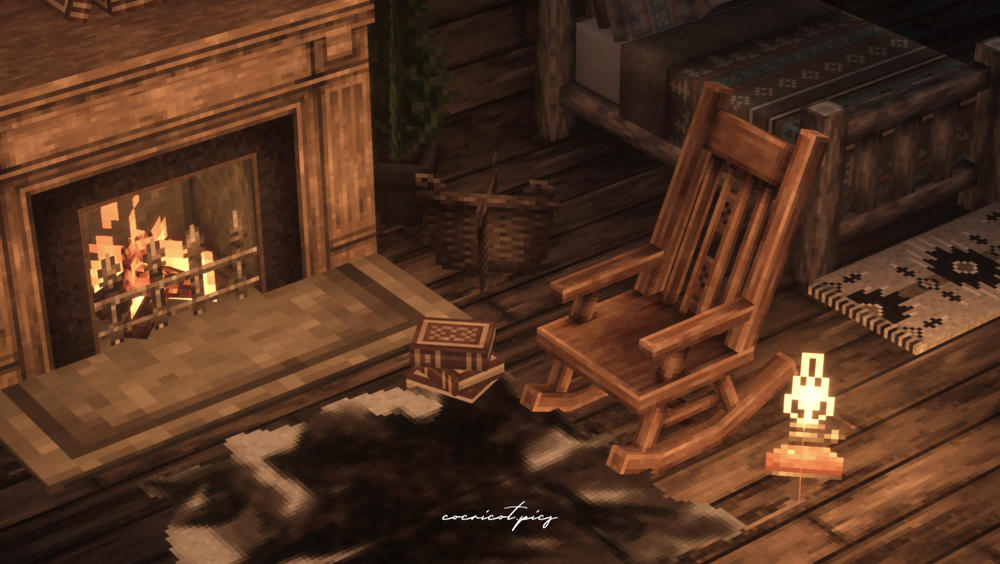 The rocking chair of your dreams 🪑 right-click to sit in front of the fireplace.
It was very difficult to create a rocking chair feel with the size and limited modeling angles…. The seat is parallel to the ground, but it looks like it…!
Relaxing at home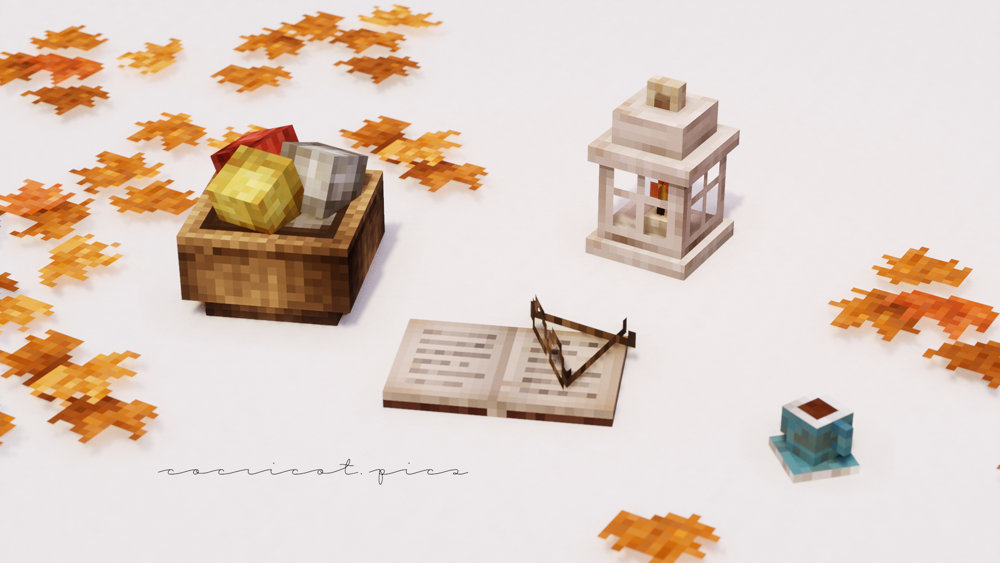 A basket with yarn, a book, a pair of glasses, a white wooden lantern, and a blue coffee cup.
The basket with yarn in it should be placed with the rocking chair. The blue coffee cup is inspired by china that might be sold in a select store… ☕The white wooden lantern is a little bald and has a vintage look. You can turn it on and off with a right click.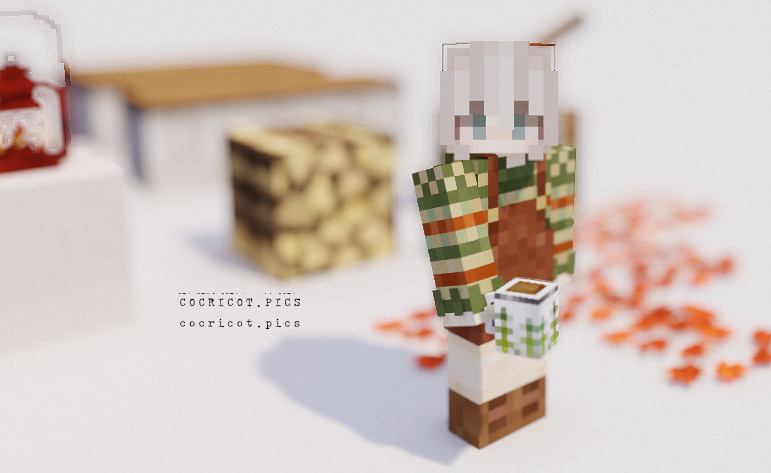 This is a large mug. The forest pattern is cute 🌲Image of enamel. I want to jump in my camper right now.
And starting this time, you can hold the mug and the café au lait in your hand like you do the tapioca! Yay😊.
Fluffy rising steam block.
When I was making mugs, I wanted a fluffy rising steam block… After observing lots of steam animations, my steam animation is finally complete!
I want to put it on top of my soup and gratin! (I don't have soup and gratin! 😅) It could be used for hot springs or something.
Autumn Entrance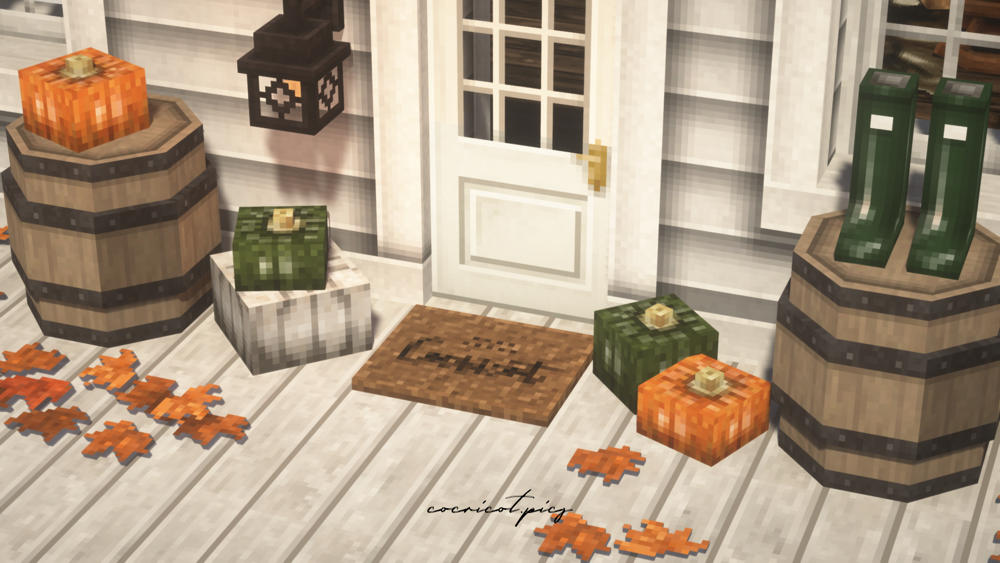 Iron lanterns, entrance mat, boots, and pumpkins. Perfect for an international style home with a front porch. The lantern can be attached to the ceiling, wall, or floor anywhere. Can be turned on and off with a right click.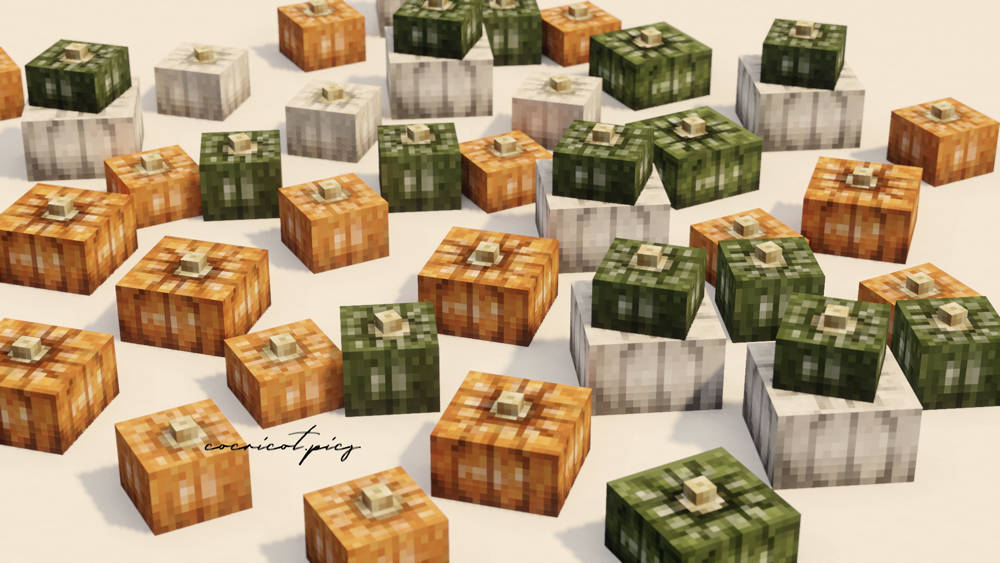 White, green, and orange pumpkins appear randomly in various shapes and combinations. The key points are the protruding head and the chic color scheme. I tried not to make it look repetitive even if I put a lot of them.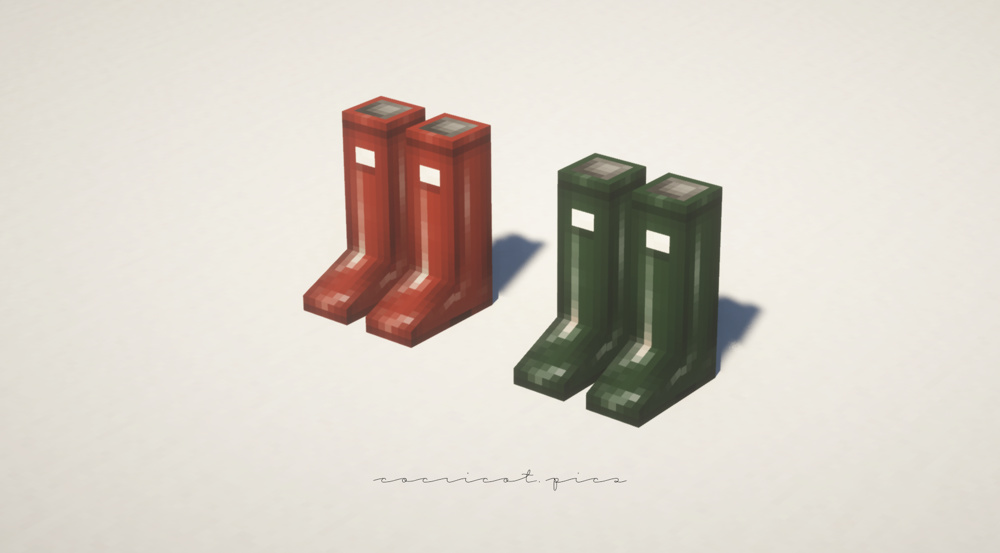 My favorite long shoes. Two colors are available, red and green 🌿, which are perfect for garden-style interiors. The shape of the foot part and the glossy vinyl are the key points of attention 👀.
Other
Other changes include the addition of a log ladder and bug fixes.
Just download the new version, replace the files, and your update is complete! Be sure to upgrade both the resource pack and the mod 😌.